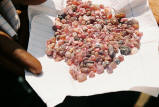 A huge parcel of pink and padparaja sapphires. Despite the poor storage mean, this lot was sold at an enormous price. Priceless indeed.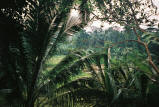 Jungle outside Ratnapura. Gem pits are present all over.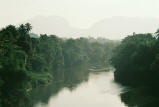 The Ratnapura river or "Kaluganga".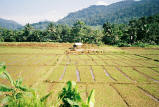 Gem mining operation. You can see many sort of small mining operations around town...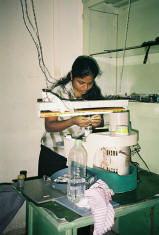 Cutter pre-forming a sapphire. She is an exceptionally skilled lapidary. The emerald cut sapphires we bought (a blue, a white and a tri-color) were cut by her.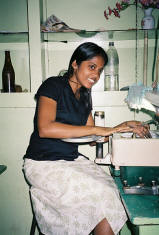 Another skilled and beautiful as well lapidary working for our friend.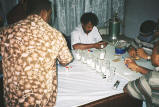 Miners at an auction. Parcels of rough are viewed by the members, then everyone interested will place a written, anonymous bid on a piece of paper and place it in a glass, belonging to that particular parcel. The highest bid win the lot.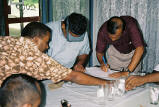 A final check of the rough before placing the bid.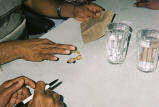 Counting the pieces of a parcel after viewing it.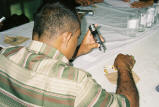 It is never enough checking the most likely clarity of the rough...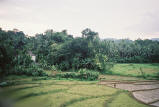 Rice fields and Jungle.