Ruby Natural Gemstone | Ruby Stone Astrology | Jyotish Gemstone Ruby

Ruby is the red variety of the mineral species corundum or aluminum oxide Al2O3. Other colors of this mineral are called sapphires. So, rubies and sapphires are actually the same mneral.
In Vedic astrology, the ruby is related to the planet Sun . The ruby gemstone is also known as Manik. Other names for the ruby are Manikya, Padmaraga and Shona-Ratna.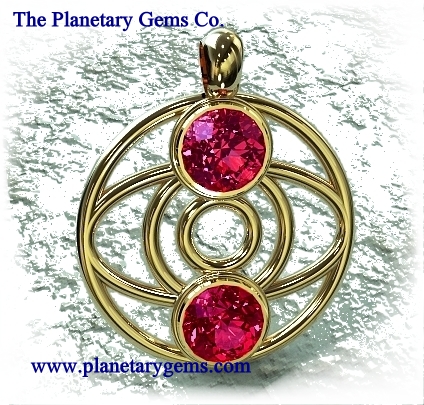 The following ascendants will benefit from wearing a ruby or any astrological, ruby alternative gemstone (Upartna). Leo, Aries, Sagittarius, Scorpio.
The ruby should be worn first on a Sunday, at sunrise, when the moon is waxing. If set in a ring, it should be worn on the ring finger of the right hand for males, left hand for females. If you like, you can perform a puja by chanting 7 times the following Sun | Surya mantra:
"Aum grinih suryaya namah"
It should be set, ideally, in yellow gold.
Its cosmic color is red, and the planet Sun is under the Fire element. Its number is 1
Planet: Sun
Cosmic Color: Red
Number: 1
Chakra: 5th, Manipura
Metal: Yellow gold

Sign: Leo, Aries, Scorpio, Sagittarius
Element: Fire
Day: Sunday
Time: Sunrise
Sun Mantra:

"Aum grinih suryaya namah"
repeated 7 times at the time of wearing a Sun talisman.

Sanskrit Names:

Manikya
Ruby
Padmaraga
Red-lotus color gem
Shona-Ratna
Red jewel
Ravi-Ratna
Gem of the sun
Signs of a well-placed Sun

Creative, vital, resistant, determined and decisive. Successful activity, authority. Royalty, high position in administration. Cheerful outlook, good fortune, ambition to achieve great heights, brilliance, optimism, success in worldly affairs.

Signs of an afflicted Sun
"Ruby recommended"

Deficiencies of good significations of the Sun (see left side of chart)
Prevention of the following diseases
"Ruby recommended"
Heart diseases, eye inflammation, low or high blood pressure, Hemorrhage, cardiac thrombosis, heated and bilious constitution, Cerebral meningitis, eruption of the face, typhoid, polypus, epilepsy, bile complaints, sun-stroke, scorches, diseases of the head